Sun Plaza is a S IMMO AG investment
We opened in February 2010, receiving for our project the Construction and Investment Journal's and  Europaproperty's awards and recognition as "The Shopping Center of the Year".
We are the dominant commercial center in the southern part of Bucharest, with a built area of 208.000sqm, owned by S IMMO AG and managed by CBRE Romania.
Being displayed on four floors, two exclusively destinated to the shopping activities, and an underground parking area with a capacity of 2 000 places on two other levels, we are the commercial center addressed to everyone, a shopping and relaxing oasis. We are an "all inclusive" center, with a balanced retail mix, with over 170 stores and leisure spaces, like coffee shops, cinema, bowling and pool centers, special places for children and a large food court. Among our main retail partners you'll find: Cora, Leroy Merlin, Cinema City, C&A, Forever 21, H&M, Lego, Zara, Altex, Bebetei and Flanco.
We have an excellent location in the southern part of Bucharest, in the very heart of Piața Sudului square, 10 minutes away from the city center, that ensures an extremely easy access. Our key advantages are the direct access from the subway to the commercial center, through an underground passage, but also the multiple transportation options – many bus and tram lines that connect us with almost all areas in Bucharest.
Even since our opening we've been a dynamic space, that has kept the visitors engaged through "a little bit different" actions and the exposure to different experiences for the first time in Romania. We got three Guiness records, at the very beginning of our activity (2010), for our already famous Christmas lights which announce the start of the Christmas first in Bucharest or for other unusual implementations, like the gigantic chocolate coin (2011) or Ioan Oncescu spectacular skanderbeg show, when he won against over 1000 competitors in only 24 hours (2012).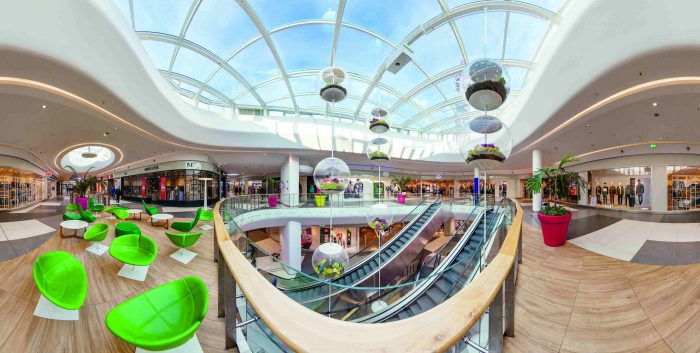 We turned into an open stage to bring the science, art, culture, different types of learning, pro bono in front of our visitors. Theatre groups renowned in the international festivals, exhibitions (Above and Beyond, Ice Age, Dragons), dance, music bands, all of them had their premiere at Sun Plaza.
For our dearest audience, the kids, Sunny, our dragon, keeps on preparing surprises, learning and entertainment methods. Those brought our visitors' appreciation who chose to be so close to us, that we could have our 100 million visitors anniversary in 2018.
In our "family", also in S IMMO property, we have Sun Offices, the three floors office building near our center, offering office spaces with a leasable area of 10 000sqm.
About S IMMO AG
S IMMO AG (Bloomberg: SPI.AV, Reuters: SIAG.VI) is the first real estate investment company in Austria, listed on the Vienna Stock Exchange since 1987. Through long term investment both in commercial and residential properties in Austria, Germany and countries in Central and SE Europe, the company is the synonime of continuous expertise and balanced portfolio.