The upgrading process of Sun Plaza started in the first quarter of 2016 and completed in the first quarter of 2018.

The remodelling works brought 11,000 sq.m. of high-quality retail and leisure space for up to 40 new stores.
Process divided in phases:
The reconfiguration process was divided in phases, spread over a period of 24 months. This helped the business continuity for the existing retailers and ensured that the quality of the shopping experience in the existing part of the centre is maintained.
 Phase 0
– Preparation period (works were not visible and did not impact current operations).
 Phase 1 (Q2 2016 – Q1 2017)
Phase 1 totals 7,800 m2 of redesigned shopping space displayed on 3 levels, out of which 2,000 m2 are occupied by four new tenants: Altex, Terranova, O Bag and Autograf. Anchor tenants such as H&M, C&A and Bebe Tei have relocated their stores and now enjoy improved areas.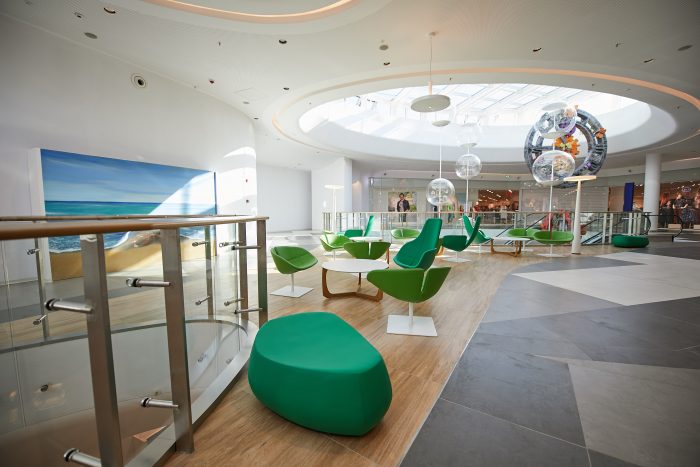 The existing subway access tunnel was extended and connected to the mall extension. As of March 23rd, the tunnel will be equipped with an approximately 130 m long art installation, designed by Peter Kogler, one of the most renowned and internationally successful Austrian artists.
Major changes include the opening of a new shopping area on level -1, where Altex and Bebe Tei will be located, as well as new access to the underground parking and a new elevator connection.
 Phase 2 (Q1 2017 – Q3 2017)
The second phase with the opening of the new 25 shopping spaces will be accompanied by a unique art installation by Peter Kogler, a renowned Austrian artist who is one of the pioneers of the computer-generated art. He installed a 40 meters high lightning cascade weighing over one ton and also marked the walls of the access alley from the subway to the shopping centre with its unique design.
The new shops, displayed on two levels of the shopping centre, include Lego, with its largest shop in Romania, Forever 21, with its largest store in the country, the lifestyle boutique Men's Cave (with its first presence in a shopping centre) and several shops to premiere at Sun Plaza (LC Waikiki, Pepco, NYX, Pandora, MAC, Sabon, Melkior), coffee shops (Gloria Jeans), various service shops, including a kids hairdresser, Dolphy, or an RCS & RDS point.
 Phase 3 (Q4, 2017 – Q1, 2018)
The reconfiguration of Sun Plaza is conceived by architects and engineers from ATP Vienna, one of the biggest integrated design companies in Austria, while the local contractor appointed for the construction works is Bog'Art, the biggest Romanian construction company.