We completed the largest remodelling process on Bucharest retail market in March 2018, action that brought us again the Construction and Investment Journal recognition for the best expansion process.

Over 20 000sqm of commercial spaces were remodelled out of which 11.000 in a new remodelled area that houses over 40 new launched stores; we have 100% leasing occupancy. The remodelling process was divided in three phases, spread over 24 months – an approach that helped continue the activity carefully for ensuring our retail partners and visitors the best experience.
The expansion works were accompanied by a design refreshment also, creating two new little plazas, remedelling other two, while the access passage to Piața Sudului subway station and other spaces in our commercial center were decorated with Peter Kogler's installations, a renowned Austrian artist and one of the computer generated art pioneers. He left his mark on our commercial center, enabling the permanent connection to the contemporary art. His important works, like the subway passage installation, by its specific design in curved lines, that makes the architecture more dynamic or the impressive lightning installation at the entrance, the largest single work manufactured by the European leader are our distinctive mark.
The remodelling process of our center was implemented by the architects and engineers from ATP (Viena), one of the most important companies focused on integrated design. The local contractor for the construction works was appointed Bog'Art, and the coordination of the entire project was provided by Optim Project Management.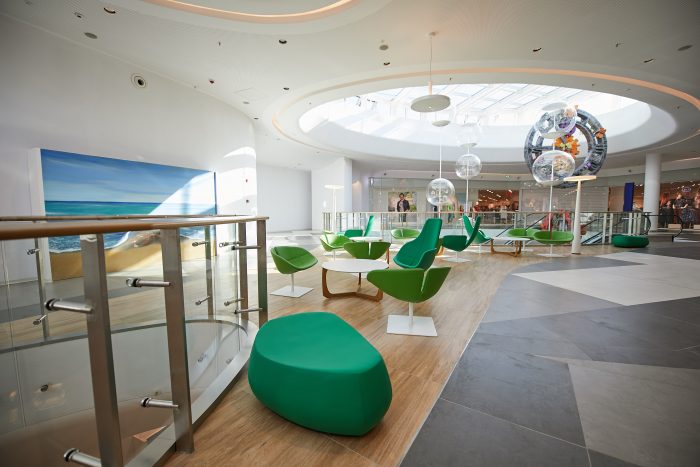 The phases were implemented as following:
 Phase 0 – preparation period (the works were not visible and didn't impact the operations)
 Phase 1 (Q2 2016 – Q1 2017) – The works were focused on the underground passage that connects our center to Piața Sudului subway station, but also on the remodelling process of a total area of 7,800sqm displayed on three levels. Access ways and new retail spaces were created including a new commercial gallery at -1 level. Four new tenants joined – Altex, Terranova, O Bag and Autograf – and some of our anchor partners like Bebe Tei, H&M and C&A relocated and renewed their spaces.
 Phase 2 (Q1 2017 – Q3 2017) – A total area of 5,500sqm and over 25 new stores were added. Those were displayed on two levels, and the list of the new partners includes: Lego and Forever 21, the largest shopping spaces in Romania, the lifestyle boutique Men's Cave (with its first presence in a shopping center) and several shops opened for the first time in our center (LC Waikiki, Pepco, NYX, Pandora, MAC, Sabon, Melkior), coffee shops (Gloria Jeans) various service shops, including a kids hairdresser, Dolphy, or a RCS & RDS point.
 Phase 3 (Q3 2017 – Q1 2018) – Once the works had been completed, new brands joined our offer: Intimissimi, Calzedonia, La Femme,Travel Brands, Various Brands, Sizeer, Sofiaman, Meli Melo Deco and Credit Europe Bank, two new restaurants were launched outside the dedicated area and their presence was more than welcome: Toan's and Marty. Some of the current tenants decided to relocate their spaces or to improve them – Donuterie, Yves Rocher, Mango, Jolidon.